Features
Flight
Fly high above the clouds or roam the depths of space. HOTAS mounts can be bought separately.
Racing
Race on your favorite tracks and gain an edge over your competitors by feeling the vehicle.
Racing & Flight
The Rotation module is one of the features making the RacingCUBE unique. Be one with your vehicle.
VR or Screens
The simulator is adjustable for every occasion. Both kids and adults can have fun.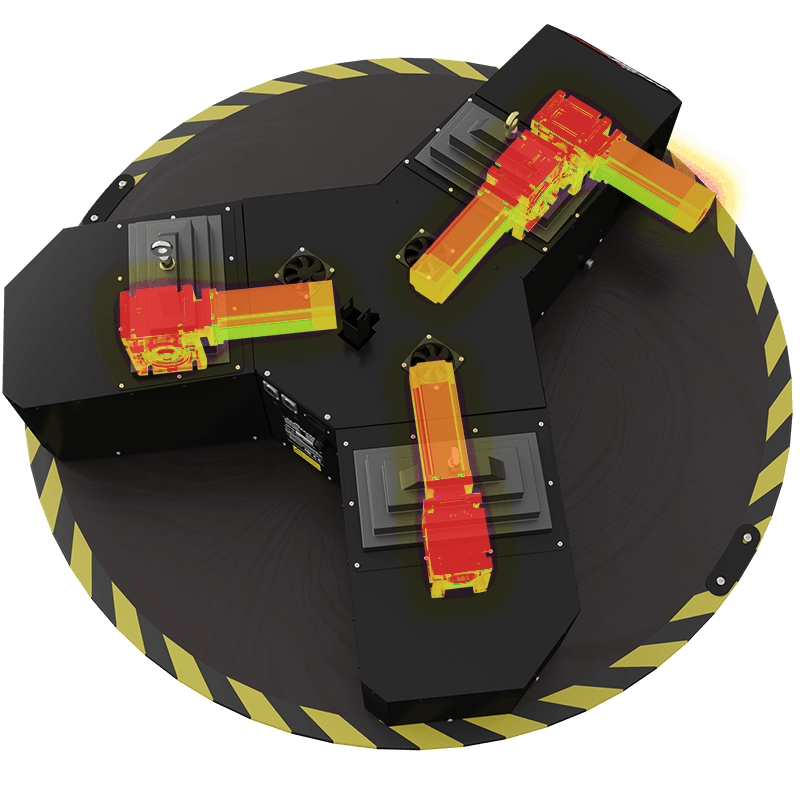 The system will shut down automatically if it gets too hot. You can see a H. symbol following a number which indicated which motor is affected.
Motors are kept cool with the built-in fans. All motors are monitored by individual temperature sensors to protect the system.
The motor controllers are advanced pieces of hardware to ensure system stability. Each motor driver offers 120 ampere of raw power.
Temperature sensors
We have multiple temperature sensors across the system which helps everything to operate normally. If parts of the system are getting too hot it will shut down and notify the user.
Most important are the motors, there is a sensor on each motor which speaks with the internal computer to ensure everything is cool and operating under ideal temperatures.
Intelligent controllers
The motor controllers use high quality components and offers ampere control and temperature monitoring in its own system. There are various security layers built in to ensure system stability and current stability. The controllers use 100 - 240v (depending on your region) which means we do not use internal power supplies to power the motors. This means less components and less things that can go wrong.
Interactive 3D Model
View the RacingCUBE in an interactive 3D environment, attach and remove accessories to see different loadouts live.
NOTE. The model can take a few minutes to load depending on your system and internet connection. We recommend using a computer with a dedicated GPU, or a high-end smartphone. MINIMUM screen resolution is 1080p for the full experience.
The RacingCUBE comes with a unique and innovative design without compromising functionality and power. With both a rotation and a heave module you can use the platform for racing and flight. The actuators are strong and fast, meaning you can feel every detail.
Hand Crafted
The simulator is designed and hand crafted in Denmark. This ensures the quality and customization of every model. We only use the best hardware on the market.
Powerful
The simulator is powerful and fast; with four very powerful actuators, we have managed to construct a compact and responsive Racing Simulator.
Easy To Use
Install the provided software, connect the simulator to your PC, and you're ready. The software supports more than 80 games, and new games are being added regularly.
Adjustable
You'll be able to adjust the platform between sessions, within seconds. The different settings may be useful if you're driving F1 cars or roaming the space in Elite: Dangerous.
Minimalistic Design
We're focusing on designing the simulator to be as minimalistic as possible. We strive to avoid over-engineering, in order to keep the lowest possible cost for you. We call it Danish design.
Modular
Our key feature is the modularity, we want you to be able to attach everything from a steering wheel to a space ship throttle. Contact us if you have any doubts about compatibility.
Configurations
See our most popular configurations and get inspiration. The RacingCUBE supports virtual reality, a 35" ultrawide screen and pro equipment. Click the tabs below to see our most popular setups.
Flight | VR
Thrustmaster Hotas Warthog
Thrustmaster T-Flight Rudder
Everything | Screen | VR | Boom
Thrustmaster Hotas Warthog
Thrustmaster T-Flight Rudder
Commercial Use
Using the RC4 for commercial purposes opens a whole new world for your business! Our platform are made with industrial grade electronics and mechanics which ensures 24/7 reliability.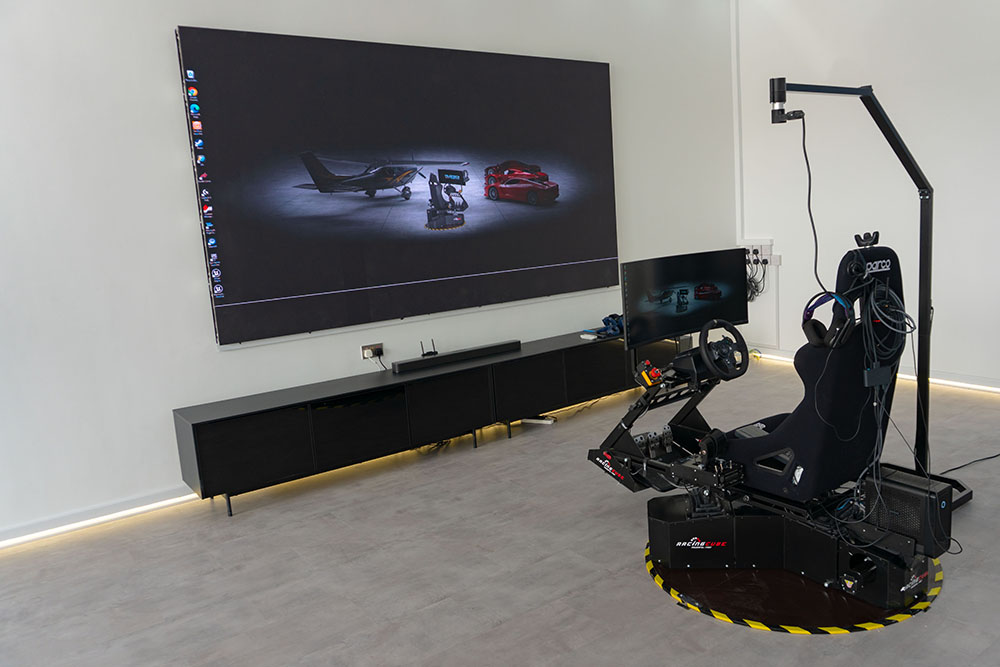 The RacingCUBE is great for use in an Arcade or for rental purposes. The footprint of the simulator enables multiple simulators close together, easy transport and with the 130+ supported games the entertainment is secured.
The mounted computer (Optional) makes installation and usage easier as there are no cables to worry about. This also allows you to utilize the Rotation Boom which feeds power to the system for continuous rotation.


All pltforms uses standard PC hardware and can therefore be controlled remotely by third party software. We do not limit the PC or pltform in anyway.
With the RacingCUBE weighting from 100 - 150kg (Accessory dependent) you can easily transport it packed or fully rigged. Packaged it fits into a medium sized car and it can be set up in 30 minutes with some experience. This makes the platform well suited for exhibitions and events that requires you to travel with it.
The footprint of the simulator also makes it easier and cheaper to fit in a small booth and with a nominel power consumption of about 400 watt, you can use it with a normal outlet. Note that spike consumption can exceed 2000 watt depending on your configuration. Total system useage is rated for 2400 watt (4x 600 brushless actuators).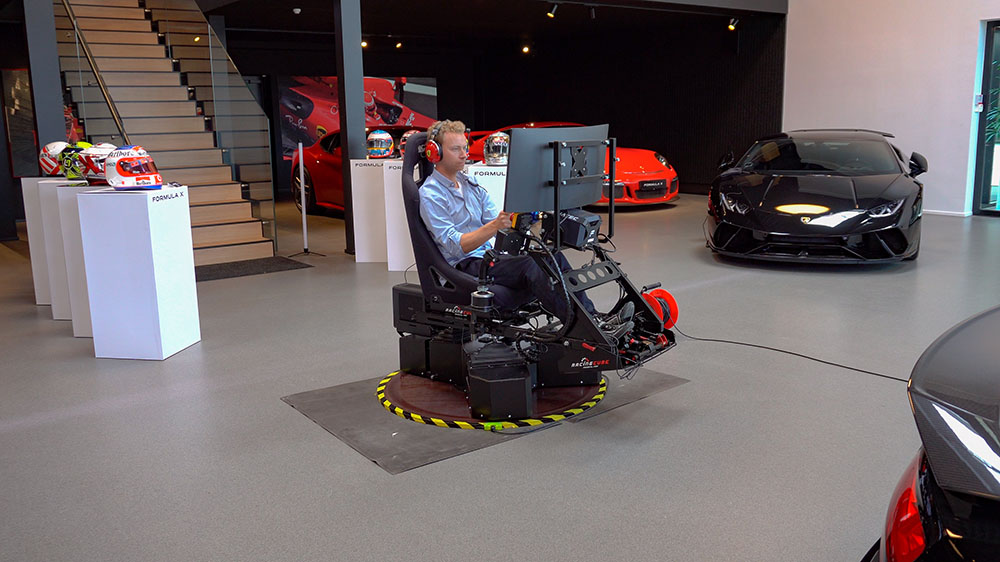 RC4-CRB
We are constantly improving on our platform and with the new RC4-CRB model you get even more performance, stability, continous rotation capabilities and it's easier to use! Take a look below to see what it offers.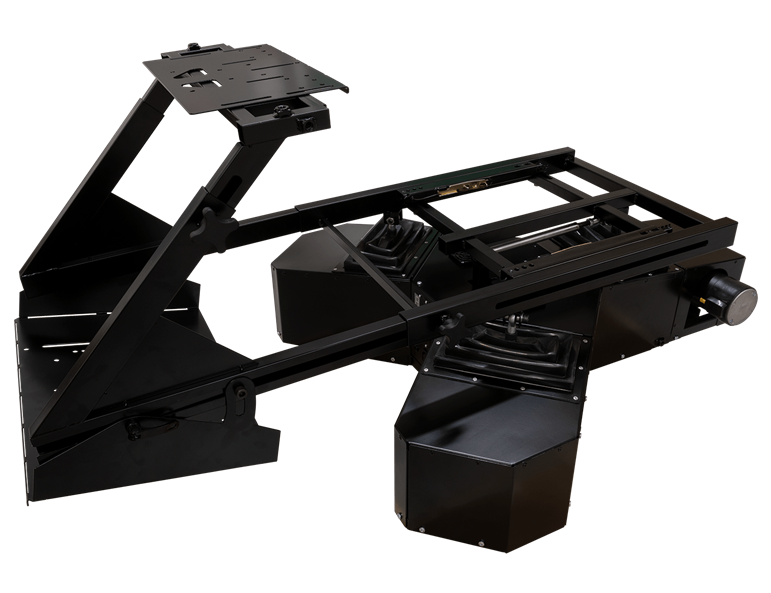 Custom Feedback System
The custom developed feedback system is designed to give you low latency and high performance. This gives you the ultimate edge while driving or flying.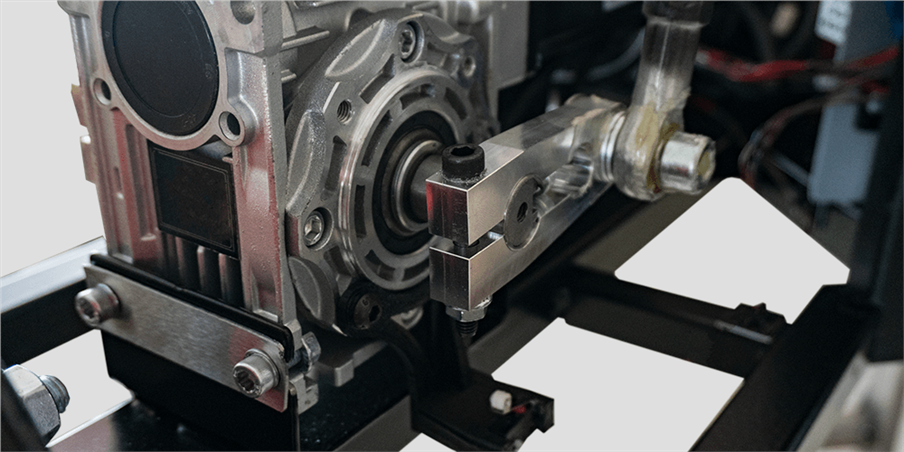 Stabilizer
The stabilizer keeps the simulator stiff, responsive and prevents "wobbling". you will no longer feel the platform moving after the actuators have stopped.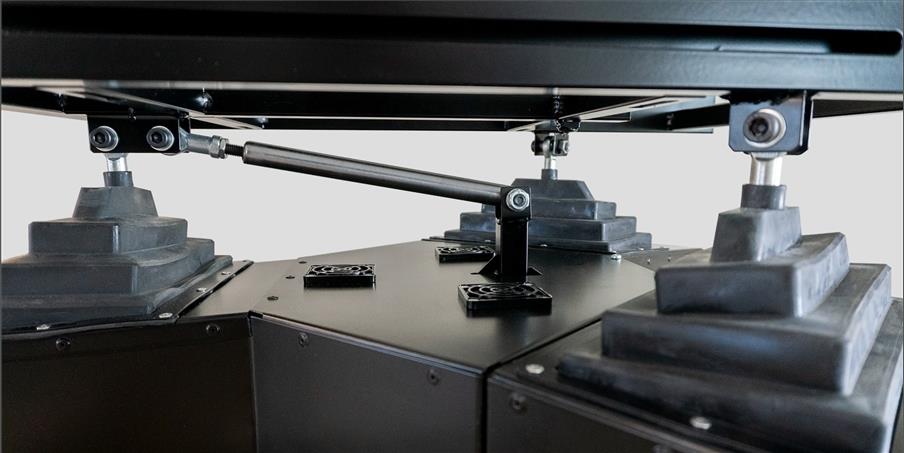 Custom Cooling
Our custom cooling system keeps the actuators running longer without overheating. You can keep beating your opponents as the 3 fans will keep the system cool.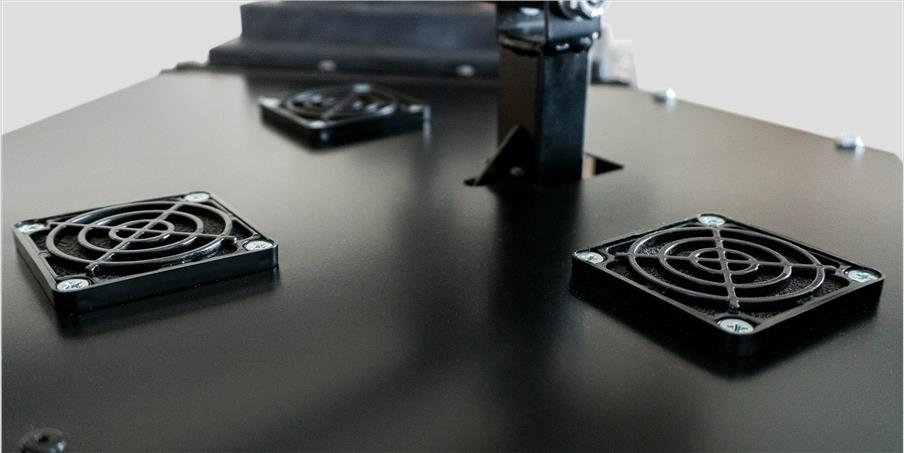 Innovative Rotation
The innovative rotation module can simulate traction loss and curves. With our new Rotation Boom we have unlocked the platform for infinite rotation.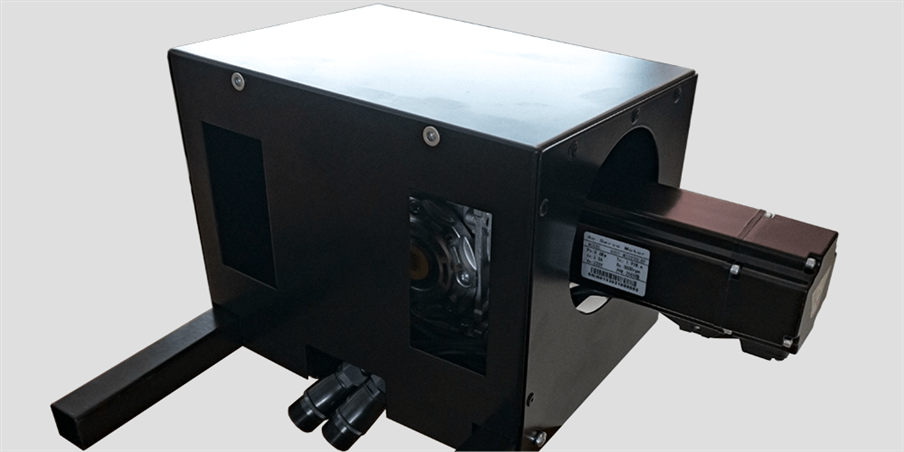 Industrial components
Our brushless motors delivers 600watt each with minimal friction and controlled by our industrial grade motor drivers operating at 10.000kHz the platform can deliver ultimate power 24/7.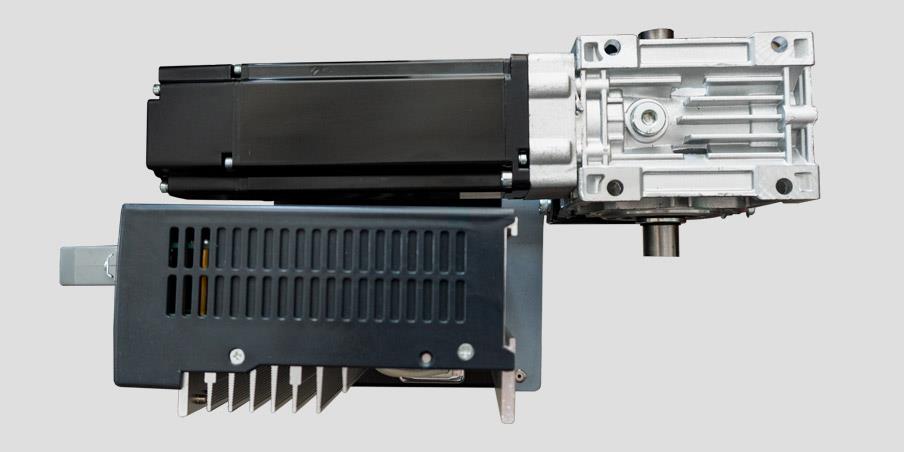 Monitor Mount
Our custom monitor mount supports up to three 24" gaming monitors. You either use the monitors for gaming or together with Virtual Reality.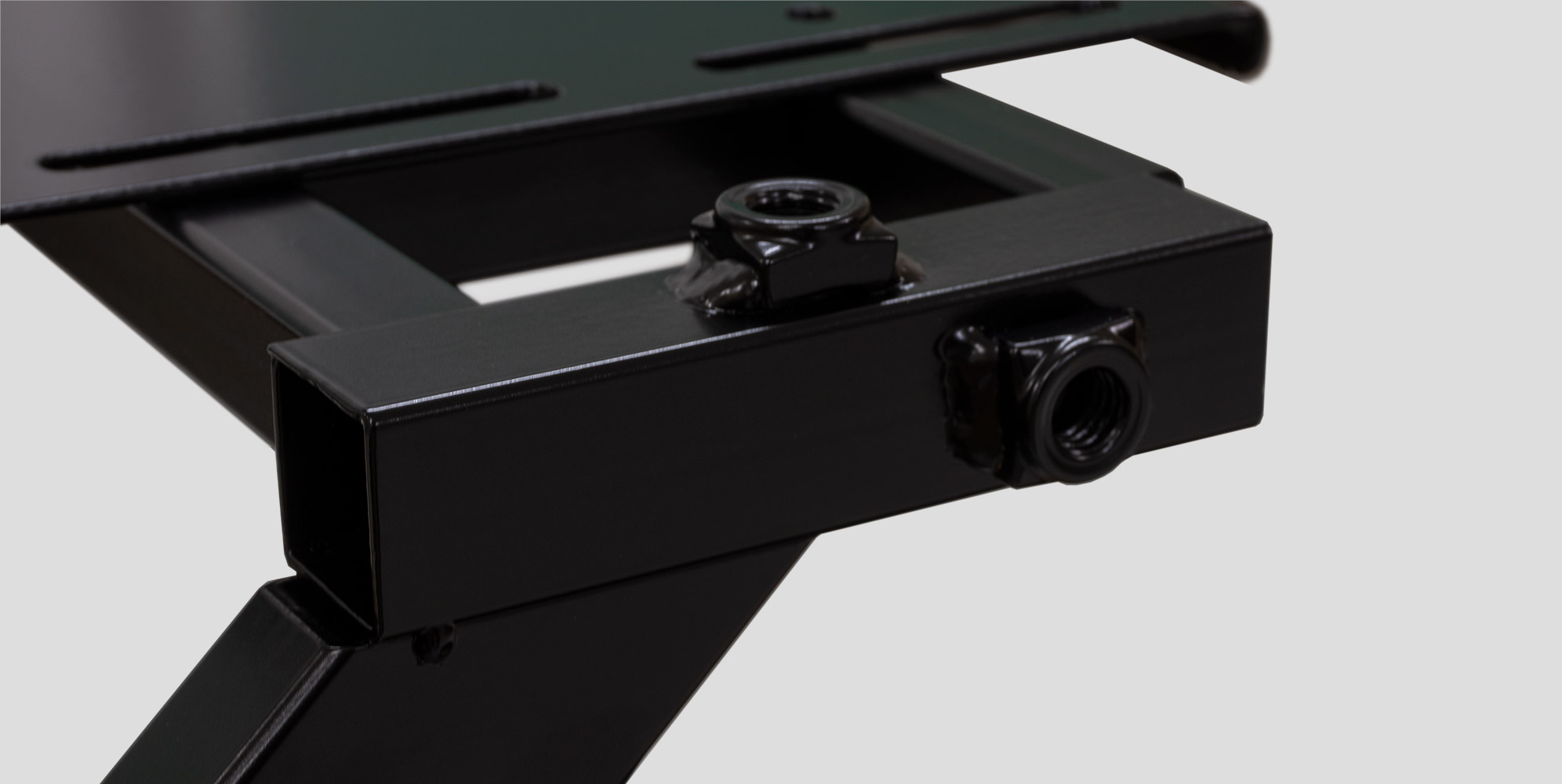 Adjustable

Powerful
Steering Wheel Adjustment
Adjust the steering wheel frame or roller coaster bar. We support a wide range of games and configurations for you to enjoy.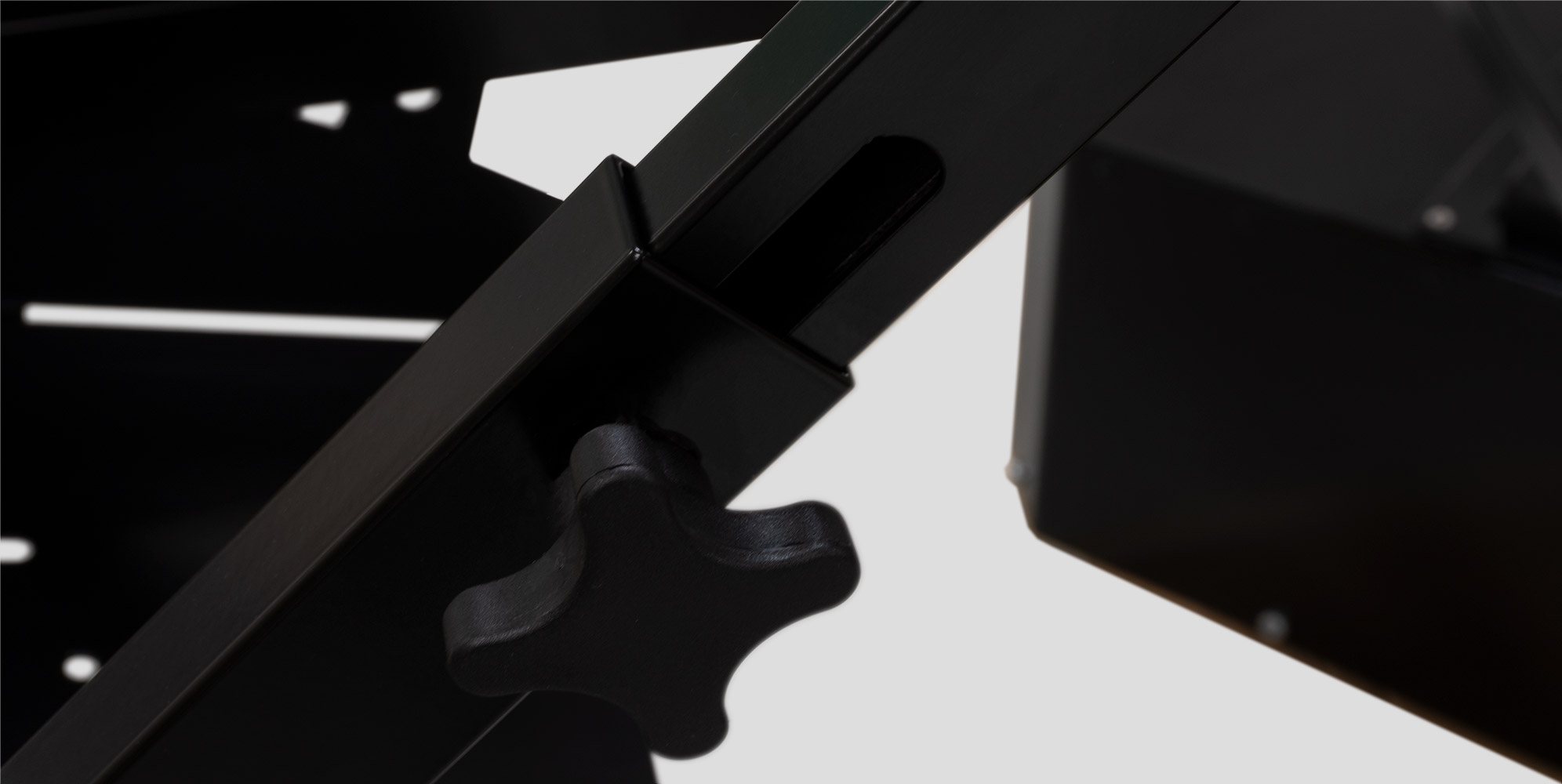 Pedal Mount
The pedal mount is easy to adjust and swap if you are switching between racing and flight. just loosen the bracket and slide it out.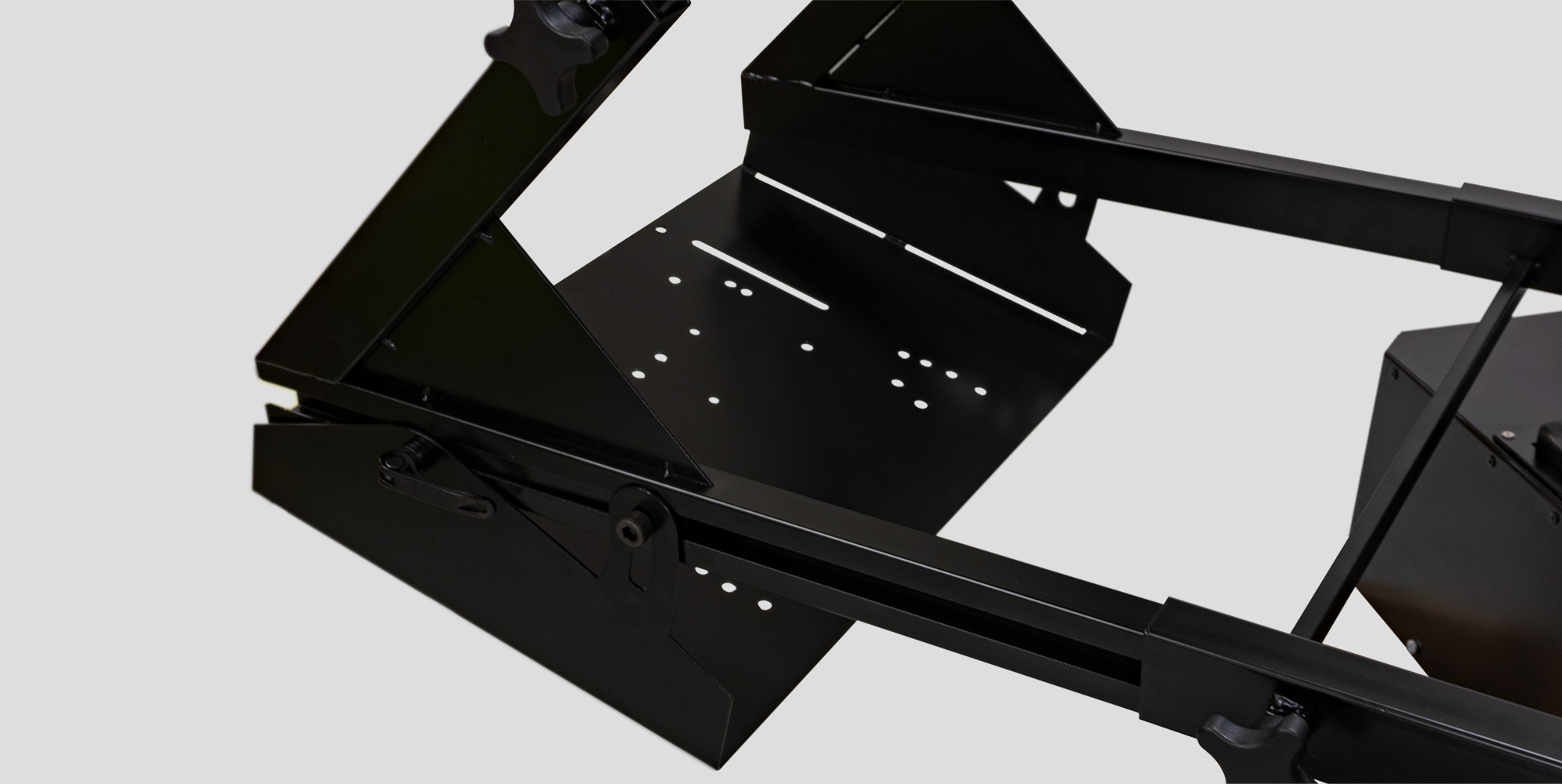 Easy to Use

Minimalistic Design
Comfort Adjustment
Slide the pedals and the steering wheel closer. You can adjust the comfort by moving multiple sliders on the RacingCUBE.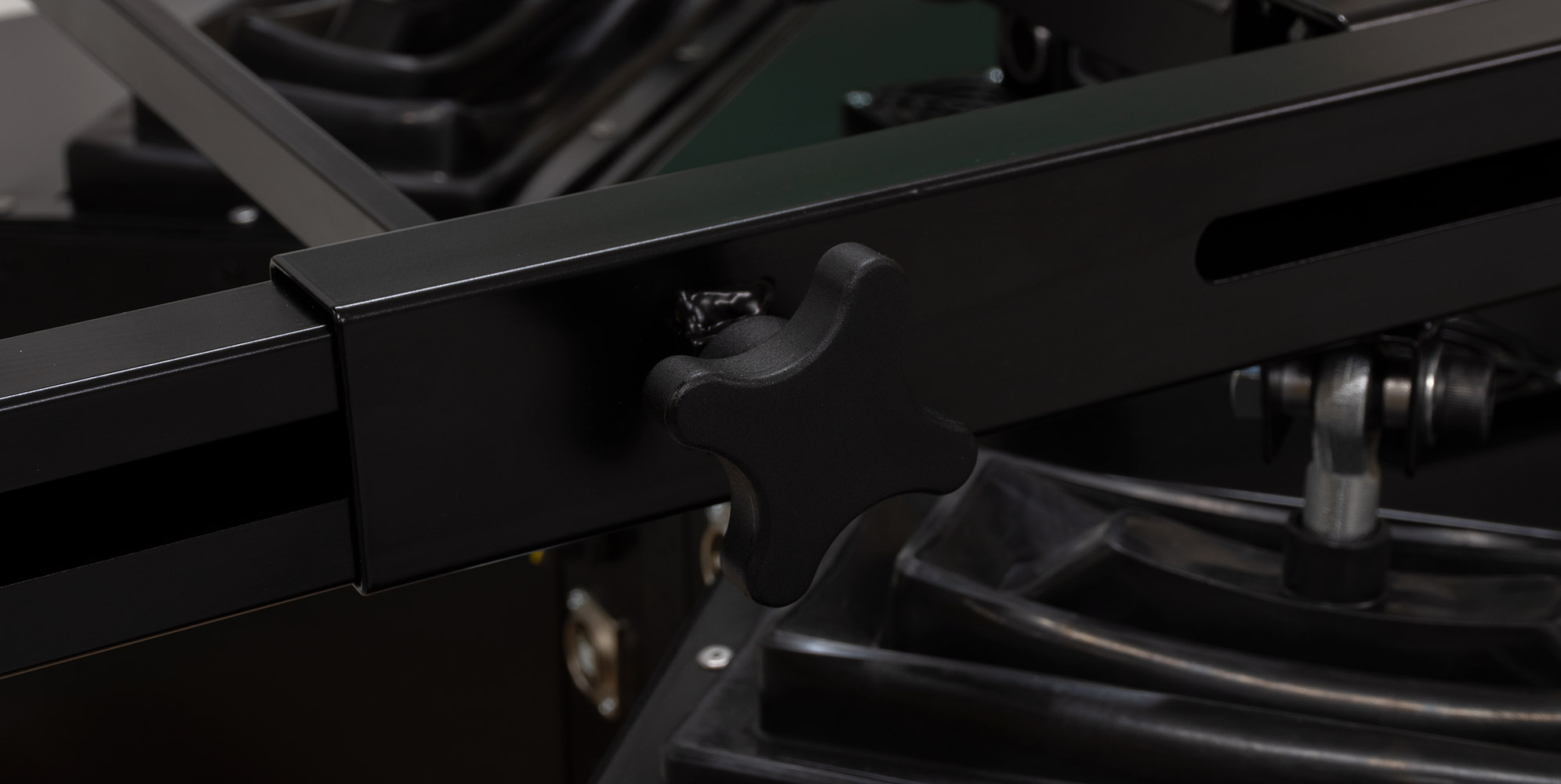 Configurable & Easy Software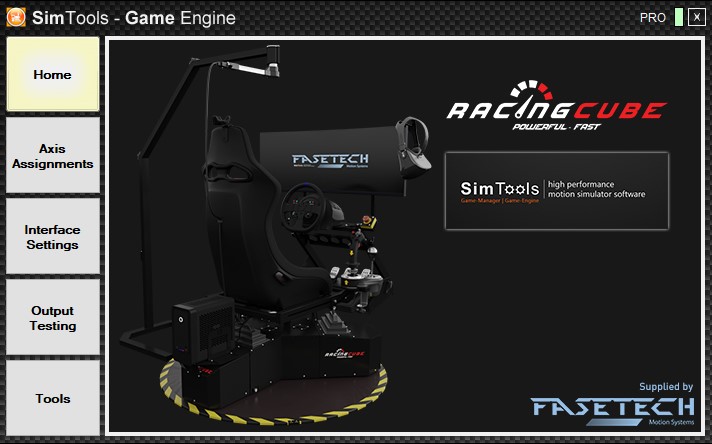 Install & Play
Our pre-configured version of SimTools comes with a wide range of game plugins and pre-configured settings for the most popular games. The software is highly configurable, you can tweak every setting to your liking.
The Output Testing feature enables you to test the simulator without starting a game, the feature is great for testing the platform to see if a Plugin should be broken or if there's other issues.
Adjust Axis Travel Range
You can adjust every axis of the simulator which offers you the customization you want. By tweaking the individual axis you can make the simulator behave realistically to every situation you might need.
As the axis controls the travel distance of the actuators you can use it to enhance certain forces and movements.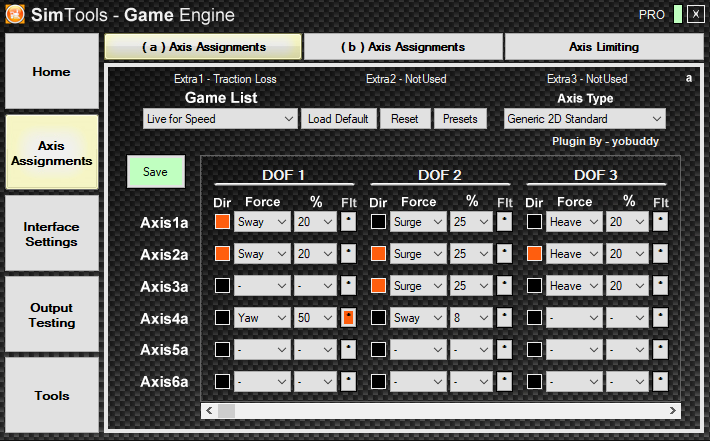 Tune the Experience
By tuning the individual forces applied to the axis while gaming you can get the right speed and force you require. The Tuning Center enables you to add or decrease forces live while gaming and with the record button you can make settings for new plugins.
Vehicle Profiles
No vehicles are made identical and with profiles you can switch between settings without spending hours between each race. The profiles enable you to save the settings you have made in Tuning Center and quickly load in a new one while in-game.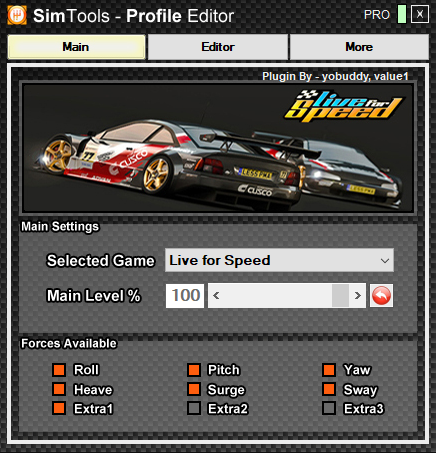 Technical Specifications
Click the icons for more information.

Pitch
28 Degrees (72 deg/s)

Roll
28 Degrees (72 deg/s)

Yaw
540 Degrees (72 deg/s)

Heave
100mm (240mm/sec)

Approx. noise level
60dB (Audible in a quiet room)

PID time
5-10ms

Max load
150kg

Power
100/115/240v

Power consumption
1400W Peak

Operating Space
180x180cm

Dimensions
155/90/75cm (L/W/H)

Base weight
Approx. 50kg.
Pitch
For ground vehicles: The pitch is used when driving up hills, shifting gear or accelerating. Once in use, the simulator will lean forward or backwards depending on the input from the game. For air vehicles: Pitch in helicopters is used when acceleration or decelerating. In planes it is used when flying up and down. Once in use, the simulator will lean forward or backwards depending on the input from the game.
Roll
For ground vehicles: The roll is used when turning or driving on an angled surface. Once in use, the simulator will lean to the side depending on the input from the game. For air vehicles: Roll in helicopters is used when turning at full speed, but also if you lean to one side. In planes it is used when banking to one of the sides. Once in use, the simulator will lean to the side depending on the input from the game.
Yaw
For ground vehicles: Yaw is used by the rotation module and makes you feel the curves and traction loss when driving. Once in use, the simulator will turn to one side depending on the input from the game. For air vehicles: Yaw in helicopters is used when standing still in the air and using the rudder pedals to turn. In planes it is used with the rudder pedals too. Once in use, the simulator will turn to one side depending on the input from the game. The yaw is limited to 500 degrees for safety precautions.
Heave
For ground vehicles: Heave is used when going up hills or lifting from the road. Once in use, the simulator will go up or down depending on the input from the game. For air vehicles: Heave in helicopters is used when taking off and landing or increasing/decreasing altitude. In planes it is used when going up or down. Once in use, the simulator will go up or down depending on the input from the game.
Approx. noise level
Most of the noise comes from the fans that cools the internals. The noise is audible in a quiet room but can be overpowered easily by in-game sound.
PID time
The response time from the computer to the simulator.
Max load
This is the total max load of the simulator. The upper frame counts to the total weight along with accessories and other attachments.
Power
The platform supports 100 - 240v and will be configured before shipping. We include a cable that will fit your local power outlet. The cable will always come with a ground variant and we recommend using that. NOTE. If you are moving to an area that uses a different voltage, please contact us before plugging it in.
Power consumption
The peak wattage is 1400 Watt; however, it depends on your settings and the attached weight. You can easily run the simulator, accessories and a computer on a 10Amp fuse.
Operating Space
Operating space depends on your settings. Generally, we recommend using more subtle settings while using VR as it gives a better experience. the minimum required space for operating it with minimal (Yet noticeable yaw) is 170x100cm If you wish to have more movement and your settings is turned up, we recommend 180x180cm.
Dimensions
Dimensions for the assembled simulator without accessories and fully expanded. 155/90/85cm (L/W/H). Dimensions for the assembled simulator without accessories and made as small as possible. 135/90/75cm (L/W/H). Dimensions of the shipping package. 120/80/50cm (L/W/H). All dimensions are without the rotation plate. That measures 120x120cm
Base weight
Base weight is only for the base of the simulator. This is the heaviest part of the simulator.
List of Supported Games
A list of some of the games we support. You can find the complete list HERE.
Assetto Corsa Competizione
Car Driving City Car Driving
Codemasters F1 2010 - 2020
Codemasters GRID, GRID 2 GRID Autosport
Condor The Competition Soaring Simulator
DCS: World (Digital Combat Simulator)
Dovetail Flight Sim World
IL-2 Sturmovik: Cliffs of Dover | IL-2 Sturmovik: Forgotten Battles | IL-2 Sturmovik: Battle of Stalingrad
Lockheed Martin's Prepar3D
Microsoft Flight Simulator 2004 (FS9)
Microsoft Flight Simulator 2020
Microsoft Flight Simulator X
Need For Speed: Hot Pursuit
OMSI2 – The Bus Simulator City
Raceroom Racing Experience
Richard Burns Rally – RSRBR
Shift 2: Unleashed (2011)
Star Citizen (Old Plugin, will be supported once released)
TrackMania Nation Forever
Volvo – The Game World Racing Series
WRC 4: FIA World Rally Championship
Software & Development
We use SimTools to communicate with the games, the software makes it easy to make your own settings and make your own plugins if you are a game developer. A commercial license is paid yearly and is available for purchase through us, by purchasing it through us you will get access to a Plug-And-Play version that is configured for the RacingCUBE. The simulator is compatible with other software too, but no support is offered.

If you want to make your own plugins please see the official thread HERE

Supported Platforms
For now we only support PC's in a windows environment. This is due to us utilizing SimTools to communicate between the games and simulator. In the future we might look into consoles, but we don's have any specific plans at the moment.
If you want to know more about compatibility and software requirements we advice you to take a look at SimTools website here: https://simtools.us/