Frequently Asked Questions
Getting Started
How do i buy the simulator?
The simulator, both commercial and consumer can be bought on our website and configured.
If you require a custom package, please contact us HERE
Where can i find guides and documentation?
All guides and documentation can be found HERE
Hardware
How much noise does it make?
The answer and other technical answers can be found HERE
What will happen after a 360 degree turn?
After each and every turn, no matter how small, it will seek towards it's starting point in such a way that you will not notice it. It's a feature called "washout"
What steering wheels, and pedals, will it support?
The standard mounts made for the RacingCUBE supports Thrustmaster, Logitech and Fanatec hardware. If you wish to use other hardware, please contact us HERE.
Does it support Virtual Reality?
Yes, that is our main use for the simulator. While Oculus tends to behave the best due to the large movements, HTC Vive and other headsets can be used too.
For now, only Oculus Rift support it's camera being mounted on the rig.
How does it feel to crash in it?
It's a bit intimidating to experience a crash at first, especially if you use the Occulus Rift. After a few crashes you get used to the feeling, or you learn to avoid crashing.
Can i get a complete simulator with all accessories?
Yes, you can assemble the simulator as you like on the website. It's super simple!
We support Flight, Racing and Space simulator equipment.
How do i know my equipment will fit?
We are a company that sees opportunities instead of difficulties. If you have hardware from others than Thrustmaster, Logitech or Fanatec; please do not hesitate to write us an email, and we will make sure that your simulator fits your equipment.
Will it be sold as a DIY-kit?
No, we strive to give the best possible experience and that is done by selling it assembled and ready to use.
Why is my Oculus Rift "jumping" ingame?
Depending on where your camera is placed (On rig or off rig) you can encounter the picture inside the HMD (Head Mounted Display) "Jumping around". This is due to the camera and the headset working against each other as the hardware is not designed for use in motion platforms. There is a few ways to resolve the problem, however none is ideal nor official.
Method 1.
Attach the camera on the rig and blinding the camera (cover it with something). This disables the 3D tracking preventing the camera at jumping around ingame. This method also disables the rotation tracking meaning, if the simulator turns 90degrees IRL, you will have to turn your head 90degrees to look forward ingame. That is why we limit Yaw to 5 - 10% making the rotation just enough for you to feel but you will not notice having to turn your head to look forward ingame.
Method 2.
Placing the camera off rig. this will yeld the same results as above, however you are able to get off the rig and move around (also ingame). You might move slightly around ingame depending on the settings of the simulator.
Method 3.
Placing the camera on rig. If you wish to place the camera on rig and you do not wish to blind it to get the full experience, you might need to turn down movement on the simulator to a rather low setting. This will minimizer the "hopping" and will give you a more smooth experience with the HMD.
Operating & Storage Temparature
Operating Temperature:

15°C - 40°C - Humidity 30% - 80%
Storage Temperature:
20°C - 50°C - Humidity 30% - 80%
Does my seat fit the simulator?
The simulator natively supports Sparco seats and Playseat. However the mount can support a variety of different models. See the picture below or contact us for a custom solution.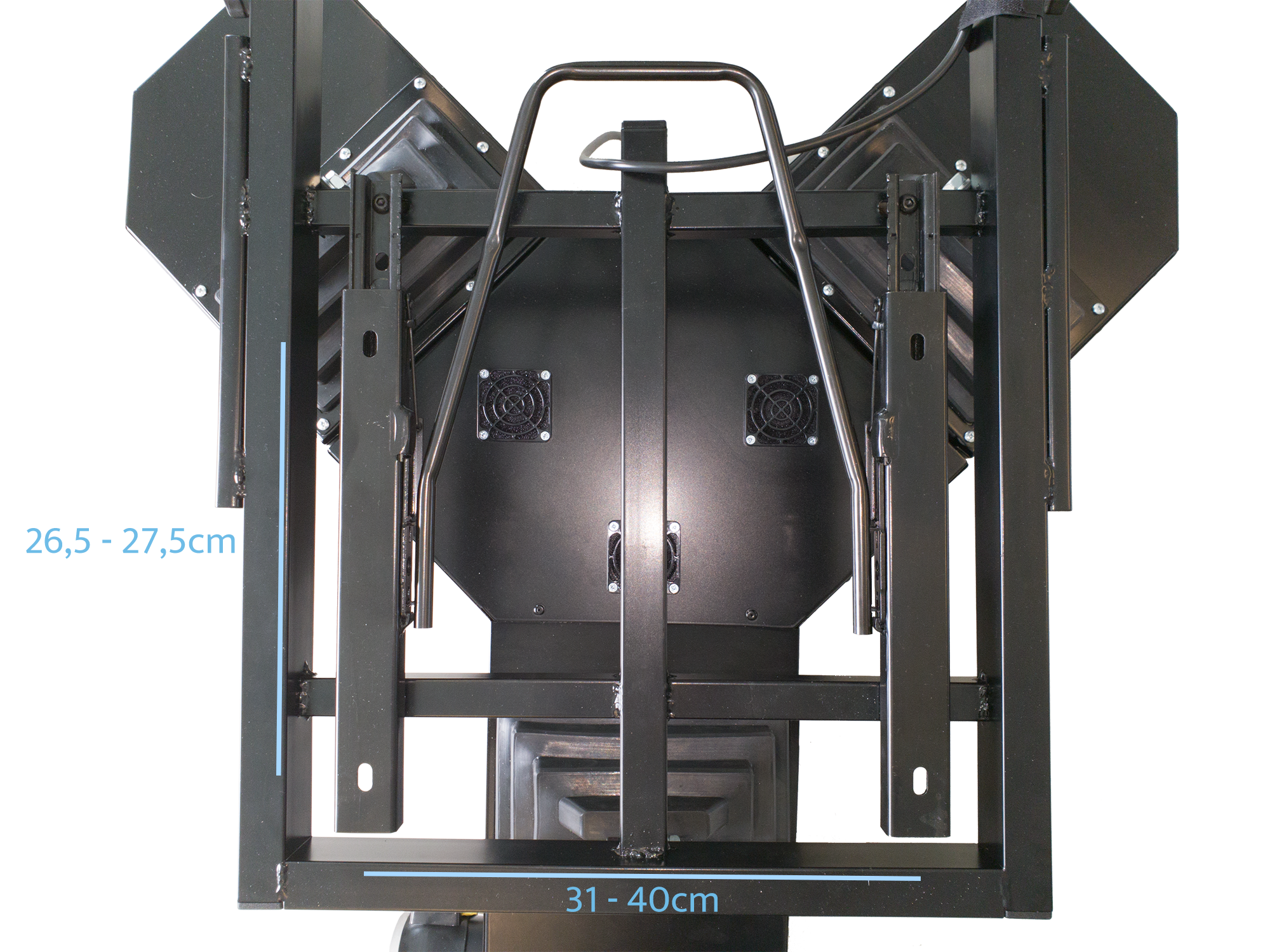 Software
Is the RacingCUBE compatible with other software?
Yes it is, but we highly recommend you to use the provided software, as this is a crucial part for delivering the ultimate driving experience.
Can i make my own plugins?
Yes you can, the software is not open scource itself however, you can make your own plugins.
What kind of software do i get?
Along with the RacingCUBE, you will be provided with a lifetime license for SimTools 2.0 Professional. This software is a superior controller software, which creates the link between the game you play and the controller which makes the servos move you around.
The software is Plug & Play and does not require any prior knowledge to operate.
Which platforms does it support?
At the moment we only support Windows PC's, however we are looking into making it work on any platform.
What games are supported?
You can see a list of our supported games HERE
Where can i find plugins for the games?
All plugins is free if you have bought a RacingCUBE simulator. Plugins will be included in the software. If you require a custom plugin, please contact us.
WARNING. PLUGINS MAY NOT BE DISTRIBUTED OR SHARED AND SHOULD ONLY BE USED FOR PERSONAL PURPOSES.
Sales
Where do you ship to?
We ship to the whole world except remote islands or countires the EU forbud us to sell to.
You can see shipping prices by adding the desired product(s) to the baske go to check out and fill in Zip Code and Country.
How much does it cost?
The prices are available at our front page HERE
Please choose consumer or business accordingly.
Is VAT included?
It depends on which country you are in. If you are located within the EU all prices is listed with VAT. If you are located outside of the EU all prices is listed without VAT and you are required to pay local TAX when importing it.
How big is the box it's being shipped in?
That depends on the accessories chosen. Base measurements is 120x80x50cm (L/W/H) 94kg with no accessories and 120x80x150cm (L/W/H) 146kg with a set of either racing or flight equipment.
Payment options
You can pay with either Invoice, where you have to transfer the money manually to our account (Account information on your Invoice). Or you can pay with credit card (Visa, Mastercard & JCB).
Products bought outside of the EU with credit card will be charged the credit card fee.
We encourage Invoice payment due to transactions fees on credit cards.
What is the difference between the consumer version and the commercial version?
The commercial version is designed to withstand 24-7 use by random costumers. The frame is made for sturdy to make sure that it can keep up with this kind of use.
The commercial version is also easier to adjust, since it needs to fit different people within a time frame. The consumer version is just as adjustable, but it requires a bit more work.
Keep in mind that the commercial version only can be bought fully fitted, where the consumer version can be bought naked and accessories can be bought separately.
The consumer version is also limited to private use only!
B2B
How do i become a reseller?
As of right now we are not in a position where we are signing contracts with resellers. It is, however, our intention to have resellers at a later time.
How many can i buy?
You can generally buy as many as you wish if our production line can keep up. However, if you wish to by a large amount, please take contact to us so we can give you a good price on shipping and accessories.
Can i buy only the simulator without accessories?
Not currently, the simulator is only sold with accessories. If you wish other accessories than listed on our website, please contact us.

(ONLY FOR COMMERCIAL MODELS)