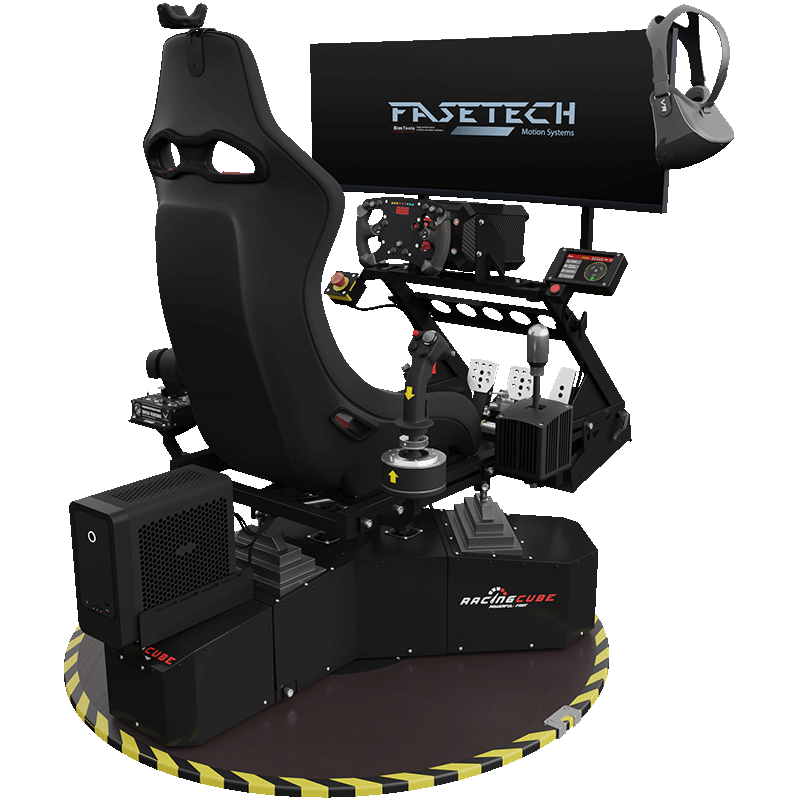 Adjustable

Handcrafted

Powerful

Easy To Use

Minimalistic Design
Infinite Rotation!
Meet the RC4-INF, the smallest motion platform with infinite rotation and heave on the market. Adaptive an powerful, meeting even the highest standards for professionals and enthusiasts.
The RC4-INF
introduces infinite rotation with a footprint not larger that an armchair. The four powerful 350W actuators ensures fast movement and accurate vibrations that can simulate the fastest cars.

The newly developed Rotation Boom ensures power delivery to the RC4-INF in every scenario. We are using a high-grade gold-plated slip ring system to deliver power no matter how many revolutions you need in your game. The infinite rotation enables new and exciting possibilities with every turn or curve you conquer in-game.
Interactive 3D Model
View the RacingCUBE in an interactive 3D environment, attach and remove accessories to see different loadouts live.
•The model can take a few minutes to load depending on your system and internet connection.
•We recommend using a computer with a dedicated GPU, or a high-end smartphone. We are working on a low-spec solution.
Racing CUBE release trailer
More videos on our YouTube channel
Accessories
Sparco Sprint FIA Motorsport Bucket Seat
The Sparco Sprint offers great comfort in a sturdy but lightweight frame. It features a narrow body to keep you in the seat.